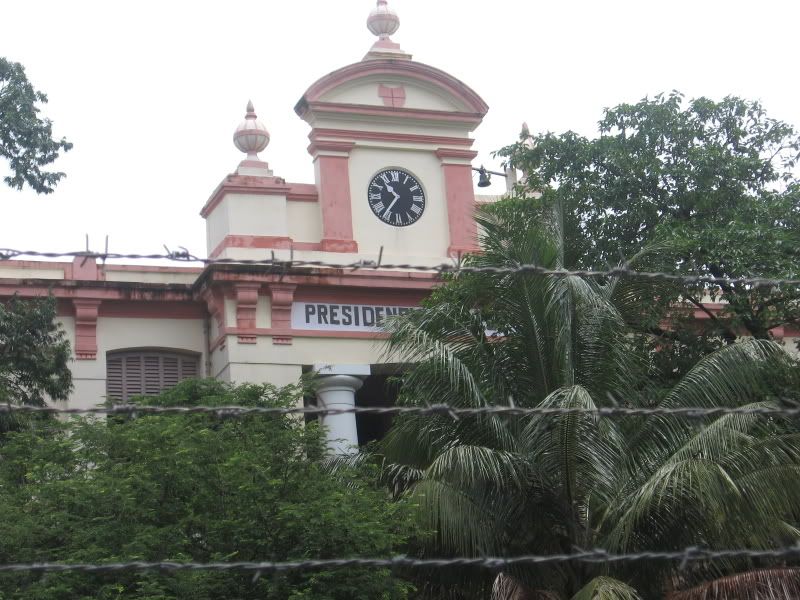 College has started . the classes are in their full glory. our classes over sometimes at 4pm sometimes at 7. but we don't leave the campus before 8pm these days. it's become an unwritten rule to go to canteen or quadrangle after classes and enjoying some good time. 3 or 4 of us, my camera, some cigarettes...and the time passes by.
I never used to stay that late in college campus. but this year being my last year in presidency college, something attracts me towards the quadrangle. just one more year, after that it'll be not like this anymore. I'll definitely visit Presi, but at times only. my 2nd home, which become a place more cozier than my 1st home, since 2002 august, will bade me farewell after just one more year.
These days when i sit there and feel the day turning into evening, the lamps being switched on, i feel a pain. a pain that is yet to come, but which will definitely come. the pain of separation. like a lover feels when he knows his loved one will go away from his life after some days.
Presidency College!! a place which remolded my personality, changing the naive school boy to a more matured man. a place where you found some friends, without whom life would be monochromatic. 1st affair, 1st love. felling of being loved, feeling of being rejected.
Getting a rose for my crush and finally giving her that. packing my 1st love letter in a bag full of rose petals: all my friends were tearing the petals and filling the bag. I gave it to her in the corridor, she tried to take out the letter, the petals came out and flows everywhere..she picked them up one by one.
having a date and got late by 4 hours due to a sudden class- but she was still there- making it up with my first kiss.
breaking up and returning all the things we ever gave each other..and later becoming friends again.
Playing with the overflowing water of the water tank. splashing buckets of water when all the colours have finished in Holi. laughing continuously after the bhang. dancing so hard in a college party that while coming back home you felt like dancing in the road. taking part in all the contests and loosing in the very 1st round. bunking classes to go shopping or a movie.
collecting all the money form friends and sharing 2 plates of chopsuey among 5 of us. having wine in the college field, pouring in tea cups, pretending that to be red tea.
lying in the field in winter, playing with friends, and seeing the stars shining in the night sky.
Arranging a programme, acting in a skit, singing in chorus as no one dare to sing alone, and fighting for the food after that. acting on the stage of the auditorium after 1 month of preparation, seeing only 25 viewers are there , half of whom are our friends, forgetting my lines, dancing in my shorts, the song being played at wrong time..yet a success.
Presidency College reminds me of all these and many more. No wonder each day I surrender more to her charm than ever before.